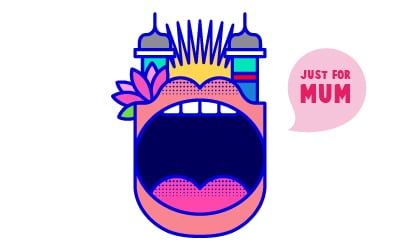 Mother's Day at Luna Park
What better way to show Mum that you love her this Mother's Day than to bring her down to Melbourne's Luna Park for a day of fun and laughter with the whole family. Grab Mum's hand to whizz, whirl and zoom together on our rides, take in the dazzling St Kilda views, hop on the grand 109 year old Carousel for a majestic spin or send her off with dad for a moment of well-earned solitude on top of the Ferris Wheel. Mum can let her hair down and relive some childhood memories whilst also creating some brand new magical ones with you at Luna Park this Mother's Day.
With the purchase of any full-priced Unlimited Ride Ticket for a guest over the age of 4 years, you get a complimentary Unlimited Ride Ticket just for Mum! Please book everyone else's tickets in advance and Mum can collect their wristband on the day at the gate (Mum must arrive with a guest over 4 years riding with a full-priced Unlimited Ride Ticket to receive their pass). All guests entering Luna Park require a ticket to enter. Offer not valid with Entry Only, Family Passes, Unlimited 0-3 passes, Annual Passes or discounted tickets.
So, if you are looking for some serious fun for Mum and the kids this Mother's Day Sunday May 8th 2022 – look no further than Melbourne's Luna Park. It's the perfect way to say a big thank-you to the best Mum in the world – yours.
We are likely to sell out, so make sure you book online today!
Click here for full Terms & Conditions