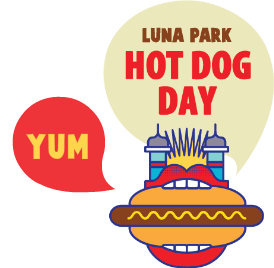 Luna Park's 7th Annual Hot Dog Day and Eating Competition
Saturday 23 July, 2022
Luna Park's 7th Annual Hot Dog Eating Competition 2022 proved to be an epic day with some of Australia's biggest names in the Professional Competitive Eating world attending the event from around the country. Huge interest from the general public from those who fancied themselves as gutsy contenders resulted in a full house for the Amateur Comp and both came together to relish the celebration of International Hot Dog Day.
Winners
The food frenzy kicked off at 2pm with the Pro Open chomp-comp with 8 gutsy challengers battling it out to eat the most hot dogs they could in 10 minutes. Congratulations to Australia's #1 ranked Competitive Eater James Webb @jbwebby_can.eat who took out the Top Dog winning place eating 23 HDB (That's Hot Dog buns for those who aren't in the know) in 10 minutes. @bigv_mantovani finished 2nd with a very impressive 18 HDB's, and Sven "2 Krayzee" Eats placing 3rd with 14.
It was a tough day at the office with the weather not on our side, but all of the pros powered through the entire event and put on a magical performance, with eaters from all over our country flying in for the event. A HUGE thank you to Yuan: The One and Only" from Sydney, Mimi "The Mini Monster" from Brisbane, Nathan "The Immortal" Imber from Tasmania, and local all-star eating celebrity @chompamatic. JBWebby's performance of 23 HDB's equaled the 2019 record setting performance of @hulksmashfood. Will the record fall in 2023? You'll have to wait to find out!
The Pro Comp was closely followed at 2.30pm by the Amateur comp, where Joshua Woo finished with a sensational effort of 9 HDB's to take out the Amateur Top Dog 1st Prize! 2nd place resulted in a tie between two dogs, Demetri the Dog and Daniel D-Dog who managed to down a very respectable 6 HDBs a piece. Congratulations to all with huge support from the crowd who cheered them along the entire 10 minutes. Fortunately there were no 'reversals' (aka regurgitations) along the way which would have meant disqualification.
Many thanks to Primo Foods and Kraft Heinz for their sponsorship and support of this pinnacle event on the Australian Competitive Eating calendar.
Top Dog 2022 in Professional Category is James Webb
Top Dog 2022 in Amateur Category is Joshua Woo
Glimpse of the Event